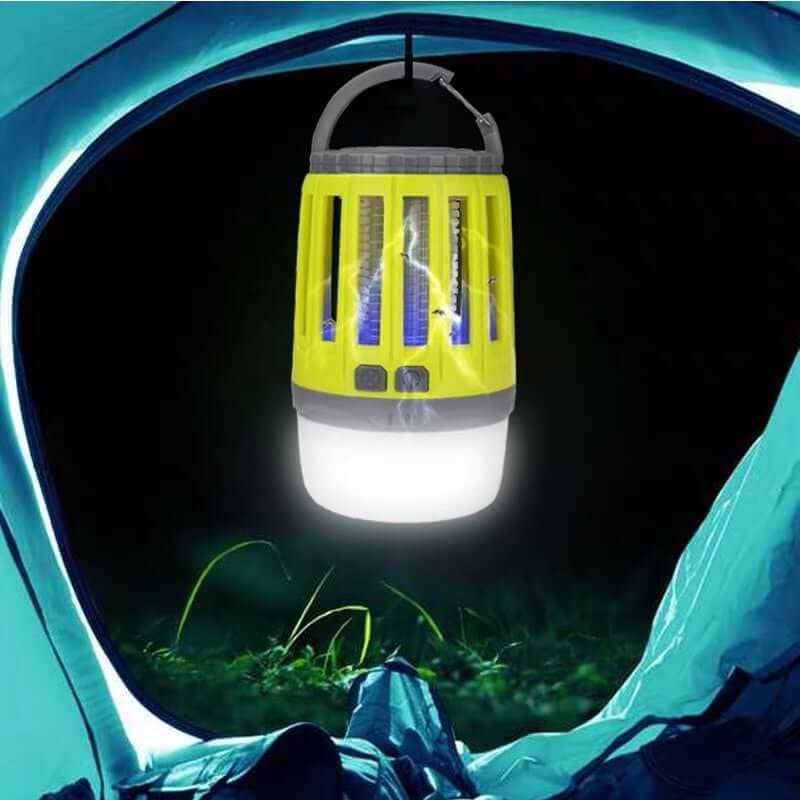 What Should You Know When Purchasing a Camping Lantern?
Being lost in the dark, experiencing severe weather, or setting out unprepared for an outdoor adventure can be risky and lead to injuries. And sometimes, a flashlight won't serve your needs best. You need the best LED lantern to illuminate the large area at the desired brightness for the required time.
Whether you're preparing for a camping trip, power outage, hiking trek, or an emergency, rechargeable camping lanterns always come in handy. It will help you lighten up your campsite, find a dark trail, read a book in your tent, and have other adventures.
But which camping lantern is perfect for you? With so many options available, it can be daunting to decide on the right one. No worries, this detailed guide will cover everything you need to consider for choosing the best lantern for camping.
What to Know When Choosing Camping Lantern?
Knowing where, how, and when you will likely be using an LED lantern can help you determine which model to choose. Are you arranging an emergency kit for harsh weather conditions? Are you preparing for power outages? Are you packing for your next camping adventure? All these scenarios require a different level of brightness, burn times, and durability.
Read on to learn about key factors to consider when selecting an LED lantern.
Size and Weight
A compact, lightweight lantern can be an ideal choice. For camping outside the car or RV, rely on a portable model, keeping size and weight in mind. You couldn't carry a tabletop lantern too far, from a van to campfire and back.
Brightness
The light LED bulb produces is measured in lumens. The required lumens depend on where, when, and how you use them. For campers and backpackers, a lantern with 800 lumens and 360-degree light coverage is suitable.
When reading or playing cards inside the tent, choose a lantern with a lumen between 40 and 100. A lantern with 100 lumens would be perfect for campground spaces, whereas between 250 and 500 lumens is suitable for a power outage. For more versatility, consider a lantern with dimmable features so you can adjust brightness for a variety of events.
Lighting Modes
Whether you're sitting around a campfire, cooking at dusk, or reading inside the tent at night, all these activities need different brightness levels. Therefore, you will need a dimmable feature or different light modes that include white, warm, a combination of both, super-bright, and emergency SOS mode.
LED lantern with a dimmable switch can adjust the lumen from zero to full brightness with the flexibility to suit any setting.
Power Source
Disposable batteries – are a good choice when going off the grid and finding a supply to plug in an AC adapter is unlikely. Be sure to keep extra batteries in case of emergency.
Rechargeable batteries – provide longer battery life. On one charge, it can last for several nights – up to 20 hours on a large sitting and 100 hours on a low setting. It ensures you will never get stuck in dark due to a dead battery.
Durability
Lanterns need to withstand falls, bumps, and extreme weather conditions. Consider LED lanterns built with durable materials to gain protection against rough weather. Don't forget to verify product specifications and buy from a trusted source. Also, check out the IP rating to know the dustproof and waterproof qualities of a camping lantern.
Final Words
Whether you're looking for an LED camping lantern or LED rechargeable work light, consider durability, brightness, dimmer feature, power source, size, and weight to fulfill your requirements. Those looking for a risk-free camping adventure should consider a lantern with different light modes to use in a variety of scenarios.
Being lost in the dark, experiencing severe weather, or setting out unprepared for an outdoor adventure can be risky and lead to injuries. And sometimes, a flashlight won't serve your needs best. You need the best LED lantern to illuminate the large area at the desired brightness for the required time. Whether you're preparing for…