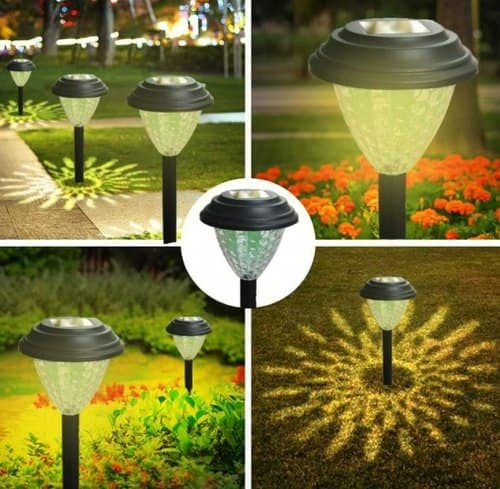 Solar Lighting: How It Works and What to Look For
Anyone looking to add some extra curb appeal to their home may want to take a look at solar landscape lighting. Available in a variety of styles, these lights can be a great addition to any yard or garden. But how do they work, and what should you look for when purchasing them?
What is solar lighting and how does it work?
Solar lights are a great way to light up your outdoor space without adding to your electricity bill. Solar lighting works by collecting energy from the sun during the day and using that energy to power the light at night.
Most solar lights have a built-in solar panel and battery, so all you need to do is find a spot for them that gets plenty of sunlight during the day. This feature makes it perfect for use as low-maintenance solar outdoor pathway lighting.
You can also find solar lights with timers, so they will automatically turn on and off as needed. Whether you're looking for solar landscape lighting or solar security lights, there are many solar options available to help light up your yard.
The benefits of solar lighting
Solar lighting has become increasingly popular in recent years, as homeowners and businesses look for ways to reduce their energy costs.
Although initial installation costs can be higher than traditional lighting, solar lights offer several advantages over other types of lighting.
They are free to operate, eliminating the need for costly monthly electricity bills. Solar lights are also environmentally friendly, as they do not produce emissions or waste products. Solar lights are durable and require little maintenance, lasting for years with little or no upkeep.
For these reasons, solar lighting is a smart choice for any home or business looking to save money and reduce their environmental impact.
Things to look for when purchasing solar lights
One solar lighting option is the solar-powered LED. These solar lights are powered by batteries that are charged by the sun during the day and provide up to eight hours of light at night. This type is often used as solar outdoor pathway lighting.
Another option is solar floodlights, which are ideal for lighting larger areas such as driveways or yards. These lights can be mounted on walls or placed on the ground, and they usually come with adjustable solar panels so that you can get the most power from the sun, making them perfect for use as solar landscape lighting.
When purchasing solar lights, be sure to look for a product with a warranty. This will ensure that you are covered in case of any defects or problems with the light. It is also important to find a light that is made of durable materials, such as stainless steel or aluminum, to withstand the elements and last for years.
With so many solar lights available on the market, there is sure to be a style that is perfect for your home.
Conclusion
Solar lighting is a great way to reduce your energy costs and help the environment. By following the tips in this article, you can find the best solar lights for your needs and enjoy all of the benefits that they have to offer.
Source: Solar patio lights.
Anyone looking to add some extra curb appeal to their home may want to take a look at solar landscape lighting. Available in a variety of styles, these lights can be a great addition to any yard or garden. But how do they work, and what should you look for when purchasing them? What is…