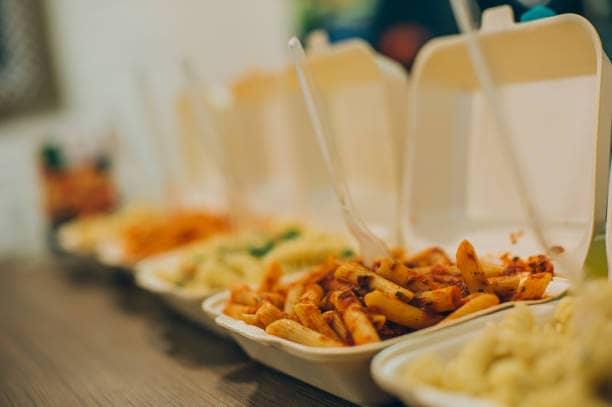 Is food packaging effecting our environment?
Modern food packaging contributes to the safety, preservation, and cleanliness of food. Unfortunately, most food packaging is intended for single-use and is not recycled. Instead, the packaging is thrown away and often pollutes waterways. So much food packaging (especially plastic) ends up in our waters. This is not only a problem for humans, but also for all the inhabitants of the water. Food packaging also has an impact on the environment, including the air and soil.
It can be difficult to get food without packaging, but it is possible to choose packaging that is less harmful to animals, people, and the environment.
Food packaging materials and applications
Most of the food we buy, especially processed food, comes in packaging. In grocery stores and markets, in coffee shops and fast food outlets, in online food delivery services, and even in farmers' markets, it is difficult to find food that is not artificially packaged.
Modern food packaging is made from a wide variety of industrial and synthetic materials, including ceramic, glass, metal, paper, cardboard, wax, wood, and, more recently, plastic. Most food packaging is made of paper, cardboard, rigid plastic, or glass.
Some of the newer plastics are made from plants such as corn, but many are petroleum-based and contain polymers and other additives. In addition, many packages are coated and most are printed with text colors. Paperboard may also have an invisible plastic coating.
Types of food packaging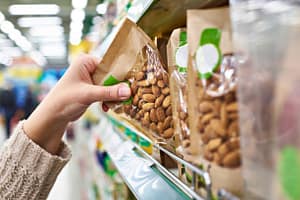 The type of packaging used depends on several factors, including where the food is purchased, the purpose of the packaging, and when the product is consumed. For example
Food sold in grocery stores is typically packaged in glass, metal, plastic, or cardboard containers, which are often multi-layered. These containers are then packaged in plastic or paper food bags.
Take-out food is wrapped in plastic film or aluminum foil, then in the paper, plastic, or polystyrene containers, then (often) in paper bags, and finally in plastic food bags. These bags may contain plastic cutlery, napkins, and straws.
Often foods are packaged in layers, for example, the food in the tray is covered with paper or plastic wrap, then placed in a cardboard box and covered with another plastic wrap.
Many foods that were traditionally packaged in glass, metal, or plastic bottles or cans are now sold in multi-layered plastic bags or boxes.
The modern way of producing and consuming food involves the production of large quantities of packaging and the constant development of new forms of packaging. The largest demand in the packaging industry is for food packaging, and about two-thirds of the materials produced are used for food packaging. Visit also: Eco Friendly Food Packaging 
The environmental impact of packaging
Unfortunately, most packaging is intended for single-use and is typically thrown away without being reused or recycled. According to the U.S. Environmental Protection Agency (EPA), food and food packaging account for nearly half of all municipal solid waste.
Water and soil pollution from food packaging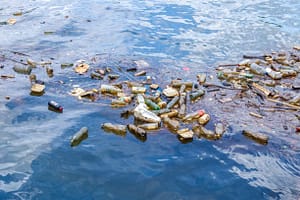 After use, most packaging is discarded and becomes waste that is either landfilled or washed into the environment by water and wind currents. Landfilled packaging, especially if it is made of plastic, does not degrade quickly or, in some cases, at all, and the chemicals in packaging materials, such as the inks and dyes used for labels, can end up in groundwater and soil.
Large amounts of plastic have accumulated in terrestrial and aquatic ecosystems (by some estimates, 800 million tons of plastic have been produced since 1950), and some scientists consider plastic accumulation to be an "important geological indicator" of the current geological era (the Anthropocene).
Waste, especially plastic, often reaches the most remote corners of the planet and threatens human, bird, and marine life.
Once in the soil or water, degradable plastics can absorb toxic chemicals like PCBs and pesticides like DDT. The contaminated particles eventually enter the food chain and are ingested by fish and shellfish. When plastics break down in soil and water, they also release toxic chemicals such as phthalates and bisphenol A (BPA).
Some food packaging materials degrade relatively quickly, while others can take hundreds of millions of years.
The effect of food packaging on birds and marine mammals
Food packaging waste is not only unsightly and spread around the world, it also poses a threat to marine animals and birds. Maximum coffee cups and lids, straws, Styrofoam containers, plastic bottles and their lids, plastic film, six-pack holders, and plastic food bags are disposable products. If not recycled, they clog waterways, are mistaken for food by animals, and get caught in them.
All the plastic floating in the ocean is extremely harmful to animals. There are many stories of dead birds with plastic in their stomachs, turtles with straws in their noses, whales with plastic bags in their stomachs, and animals with plastic bags and six-pack rings wrapped around their bodies.
It is estimated that billions of pounds of plastic, made up of trillions of pieces, are tossed around by ocean currents. Only about 5% of this mass of plastic is visible at the surface, the rest floating in the water or sinking to the ocean floor.
Air pollution from food packaging
Food packaging waste that is not recycled or composted usually ends up in a landfill or is incinerated. Both methods have their benefits for waste management, but they also emit air laden with greenhouse gases. Ammonia and hydrogen sulfide are emitted from landfills, while mercury, lead, hydrogen chloride, sulfur dioxide, nitrogen oxides, and particulate matter are emitted from incinerators.
Modern food packaging contributes to the safety, preservation, and cleanliness of food. Unfortunately, most food packaging is intended for single-use and is not recycled. Instead, the packaging is thrown away and often pollutes waterways. So much food packaging (especially plastic) ends up in our waters. This is not only a problem for humans, but also…